Taronga Western Plains Zoo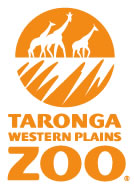 With over 3sq km of wild and wonderful bushland and 700 animals, Taronga Western Plains Zoo offers a safari adventure right in the heart of NSW.
Find yourself surrounded by magnificent wildlife on wide open plains. Whether you stroll across the grasslands or hire bikes or carts, its a fun way to spend time with family and friends, away from it all.
Taronga Western Plains Zoo is open every day of the year, including Christmas Day from 9am to 4pm. The entry fee includes two consecutive days admission, to give you ample time to explore all the Zoo has to offer. Last entry to the Zoo circuit is at 4pm.
Taronga Western Plains Zoo is located in Dubbo, one of New South Wales best kept secrets. This vibrant centre is an exciting mix of the old, such as Old Dubbo Gaol (a must see!) and the new, such as the Western Plains Cultural Centre and Regional Theatre and Convention Centre.
With farmers markets showcasing the remarkable produce of the region, grown in the rich soil of the Macquarie Valley, and superb restaurants, hotels and bars, Dubbo is growing in confidence and sophistication.
❊ When ❊
Days
: Monday, Tuesday, Wednesday, Thursday, Friday, Saturday, Sunday
2018-11-26 , 2018-11-27 , 2018-11-21 , 2018-11-22 , 2018-11-23 , 2018-11-24 , 2018-11-25
Time:
9am to 4pm
Obley Rd, Dubbo New South Wales | Map
Telephone: +61 2 6881 1400



❊ Web Links ❊

➼ Taronga Western Plains Zoo

➼ www.taronga.org.au/taronga-western-plains-zoo



❊ Also See.. ❊

➼ Taronga Zoo



❊ Be Social ❊


Publisher Statement: Details can change at any time. Readers are advised to check with the advertiser (links above) before proceeding.
➼ Advertising Disclaimer


Update This Page