Entertainment Quarter Fresh Produce Market-EQ Market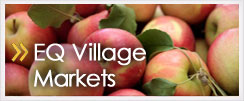 Lovers of fine foods will be pleasantly surprised by the EQs Fresh Produce Market, held each Wednesday and Saturday from 10am.
Under cover of our sail structure, we welcome you to sample the freshest regional produce and gourmet foods. Many of our stallholders have been with our market since we opened and offer the highest quality produce, including fruit and vegetables, eggs, cheese, breads, olives, nuts, chocolates, cakes and pastries.
Be greeted at our market entrance by a spectacular array of colour, courtesy of Chris May and his team at Mayfarm Flowers. With a reputation for exceptional quality, variety and pricing, they are justifiably proud of their stall and the number of regular customers they attract to the market each week.
Fruit and vegetables are in abundance in our market, including hydroponic and organic. Meliora Farm specialises in seasonal oranges and avocadoes, with many other citrus varieties available throughout the various seasons.
Helen Roche and her staff will happily offer samples of the juicy apple varieties grown on her Adelong farm, along with her seasonally available cherries and stone fruits.
With a huge range of cheeses to select from at the EQ Fresh Produce Market, be sure you stop to sample The Cheese Rooms local specialty cheeses or Formaggio Ocellos selection of imported cheeses, sourced from all regions of Italy.
David Borg, our resident goats cheese producer, is involved at all stages of creating his Willowbrae Chevre range.
If you have a sweet tooth, we have you covered. The Strudel Barons mouth watering strudels, cakes and tarts will keep you coming back for more, while Alberts delicious crepes and waffles at Le Creperie are also well worth making the trip for.
Chocolate lovers can also indulge, selecting from The Chocolate Sources handmade gourmet treats, or Lisa Roses mouthwatering rocky road and turkish delight.
Bring the family for a relaxed lunch, selecting from international hot foods such as sweet and savoury crepes from Le Creperie, Chorizo rolls from Mojo Picon, Turkish Gozleme or delicious Ethiopian pancakes.
No market trip is complete without a great coffee and we have two of the best on offer at the EQ. Local company Tobys Estate is fast gaining a reputation for their smooth blends, while Ivan and Linda at Cafe East Timor are always ready with a smile and great cup of their Fair Trade 3 Amigos blend.
Every Wednesday 10am-3.30pm
Every Saturday 10am-3.30pm
Closed Christmas Day
Farmers Market at Entertainment Quarter Moore Park
Entertainment Quarter, Showring
Bent Street Entertainment Quarter
Moore Park, NSW 2021
Entry is free!
❊ When ❊
Days
: Wednesday, Saturday
2018-12-19 , 2018-12-22
Lang Rd Moore Park New South Wales 2021 | Map
Telephone: 02 9383 4333



❊ Web Links ❊

➼ Entertainment Quarter Fresh Produce Market-EQ Market

➼ www.entertainmentquarter.com.au




❊ Be Social ❊


Publisher Statement: Details can change at any time. Readers are advised to check with the advertiser (links above) before proceeding.
➼ Advertising Disclaimer


Update This Page