Gazzas Garage Sales | Sydney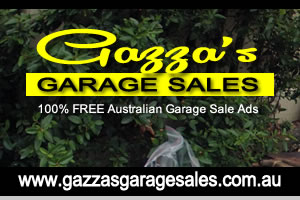 Gazzas Garage Sales is Australias best known Garage Sales calendar showing every garage sale this weekend and upcoming sales Australia wide.
Sydney Garage Sales
Where you will find 100′s of
garage sales in Sydney
.
Free Advertising
100% free advertising! Thats why we show so many garage sale ads, its free for sellers (ads) and its free for buyers looking for garage sales!
Gazzas Garage Sales offers free garage sale advertising.
--> Visit
www.gazzasgaragesales.com.au
and apply on line.
◾
Buyers
- were the biggest garage sales register in Australia.
◾
Sellers
- how to plan and advertise a successful garage sale.
Gazzas Garage Sales is also an excellent resource to help you plan, advertise and make your garage sale a success.
and dont forget.. tell em Gazza sent you!
❊ Web Links ❊
➼
Gazzas Garage Sales | Sydney
➼
www.gazzasgaragesales.com.au
❊ Also See.. ❊
➼
Garage Sales in Sydney | Today
❊ Be Social ❊
Update This Page