Australian Museum Behind the Scenes Tour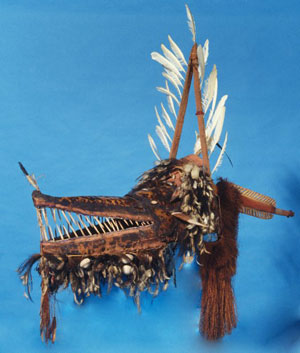 Less than one percent of the Australian Museums vast collection is on display. The Behind the Scenes Tour offers visitors the opportunity to see all those items kept in storage behind the scenes.
Sneak a peek at an irreplaceable collection of more than 16 million objects and experience incredible treasures - creatures large and small, birds and mammals, ancient fossils and precious minerals, plus incredible cultural artefacts from Indigenous Australia and the Pacific.
Visit working areas normally reserved for staff and researchers, where rare specimens are carefully preserved, and scientists conduct the latest scientific research into life on planet Earth.
Highlights
the Goliath Tarantula - a South American spider that can grow as large as a dinner plate

20,000-year-old Diprotodon fossils

the jaws from a Scalloped Hammerhead Shark

the Tasmanian Tiger - one of 140 specimens of extinct species in the Museums collection

a rug made from 75 Platypus skins

the largest collection of Funnel-web Spiders in Australia

a King Penguin collected by Sir Douglas Mawsons Antarctic Expedition in 1912-13

a Torres Strait Island dance mask acquired by the Museum in 1907

items collected by Captain James Cook and spears in the Pacific Collection

a giant crab and lobster in the Marine Invertebrates Collection

painted ladies opals in the Gem Vault

fluorescing parrots

exotic butterfly and beetle collection

the taxidermy lab

opalised fossils 110 million years old
Duration: 2 hours
Daily: 11am
Admission:
Non-Members $130 per person
Australian Museum Members $110 per person
Group booking of 6 or more people $110 per person
Booking information:
Bookings essential and required 3 pm two working days prior

Children 12 years and under not permitted

Tours limited to maximum of 11 people per tour

Exclusive group tours for 6 or more people can be arranged on request - ideal for corporate team-building events, clubs, social groups and community groups. Conditions apply.

Tickets are non-refundable and non-transferable.
Visit the Australian Museum website via the link below for more information and conditions.
When
Daily, 11am (except Christmas Day)
Tour leaves promptly. Bookings Essential. Please arrive 15mins prior to tour start
❊ When ❊
Days
: Monday, Tuesday, Wednesday, Thursday, Friday, Saturday, Sunday
2018-12-17 , 2018-12-18 , 2018-12-19 , 2018-12-20 , 2018-12-21 , 2018-12-22 , 2018-12-23
Time:
11am - 1pm
❊ Venue | Location ❊
Australian Museum
[
view
]
6 College Street Sydney New South Wales ||
Map
Telephone: (+612) 9320 6000
➼ Venue: 3 Calendar events |
View Events
❊ Web Links ❊
➼
Australian Museum Behind the Scenes Tour
➼
www.australianmuseum.net.au
❊ Be Social ❊
Publisher Statement
: Details can change at any time. Readers are advised to check with the advertiser (links above) before proceeding.
➼
Advertising Disclaimer
Update This Page