Ewa Pachucka Arcadia: landscape and bodies 1972-'77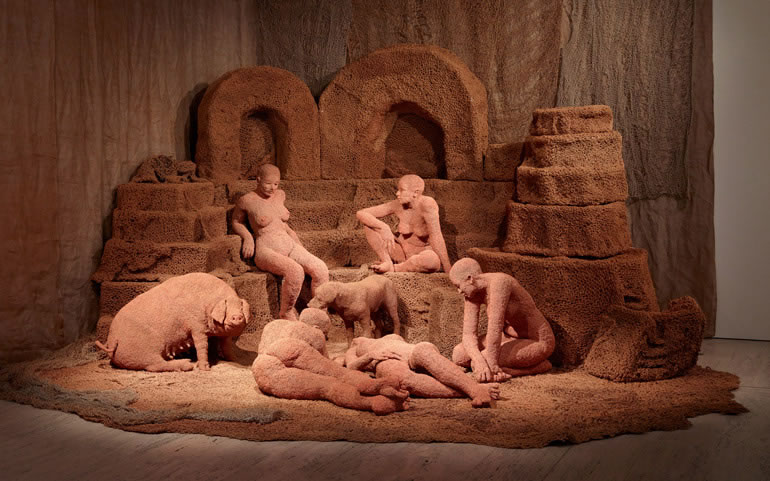 Ewa Pachucka
Arcadia: landscape and bodies
The rock forms, female figures and animals in this monumental work from the 1970s have been crocheted from natural and synthetic fibres.
Born in Poland, Ewa Pachucka lived and worked in Australia from 1971 until her return to Europe in 2000. Her textile works draw upon a classical discourse through which she expresses her progressive ideologies, integrating notions of collectivism, feminism, environmentalism and the elevation of textile traditions and 'craft' into the privileged realm of fine art.
Her multi-part installation Arcadia: landscape and bodies 1972-77 was created within the context of 1970s 'fibre art', and first exhibited at the Gallery in 1978.
It is complemented in this display by a group of works by Australian and international women artists produced between 1977 and 1980, all of whom explored in some way the 'feminine' craft practices of embroidery, quilting, crochet or sewing.
3 Mar - 29 Apr 2018
Free admission
Location:
20th & 21st c Australian art
❊ When ❊
From
: Saturday 3rd of March 2018 To Sunday 29th of April 2018
Time:
10am-5pm
❊ Venue | Location ❊
Art Gallery of New South Wales
[
view
]
Art Gallery Road, The Domain Sydney New South Wales 2000 ||
Map
Telephone: (02) 9225 1700
➼ Venue: 8 Calendar events |
View Events
❊ Web Links ❊
➼
Ewa Pachucka Arcadia: landscape and bodies 1972-'77
❊ Be Social ❊
Publisher Statement
: Details can change at any time. Readers are advised to check with the advertiser (links above) before proceeding.
➼
Advertising Disclaimer
Tags:
Art
➼
Content Editor