Cyberworlds: Computers & Connections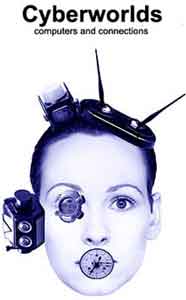 Cyberworlds: Computers & Connections, a permanent exhibition at Powerhouse Museum.
Computers are the defining technology of our time. Unlike other machines that are designed to carry out a specialised task, the computer is a general-purpose device. It is a universal machine.
This exhibition looks at the computer and seeks to understand what it is, what it can do, why it was developed, and how it works.
Although technologies have changed dramatically this century, what of peoples values, beliefs, hopes and fears in relation to these technologies?
Cyberworlds questions the relationship between people and computers, and their impact on our lives. Are our concerns today so very different from those of a hundred years ago?
Cyberworlds has been conceived as an evolving exhibition that showcases advances, applications and issues in information technology as they arise.
Powerhouse Museum Admission
Adult: $12.00
Child (4-15 years): $6.00
Children under four: Free
Family (1 adult and up to 3 children; or 2 adults and up to 2 children): $30.00
Seniors / Pensioners / Concession / Student: $8.00
Education group bookings (per student): $8.00
Powerhouse Members: $8.00
❊ When ❊
Days
: Monday, Tuesday, Wednesday, Thursday, Friday, Saturday, Sunday
2018-12-17 , 2018-12-18 , 2018-12-19 , 2018-12-20 , 2018-12-21 , 2018-12-22 , 2018-12-23
Time:
10am - 5pm
❊ Venue | Location ❊
Powerhouse Museum
[
view
]
500 Harris Street Ultimo New South Wales 2007 ||
Map
Telephone: 02 9217 0111
➼ Venue: 4 Calendar events |
View Events
❊ Web Links ❊
➼
Cyberworlds: Computers & Connections
➼
www.powerhousemuseum.com
❊ Be Social ❊
Publisher Statement
: Details can change at any time. Readers are advised to check with the advertiser (links above) before proceeding.
➼
Advertising Disclaimer
Update This Page