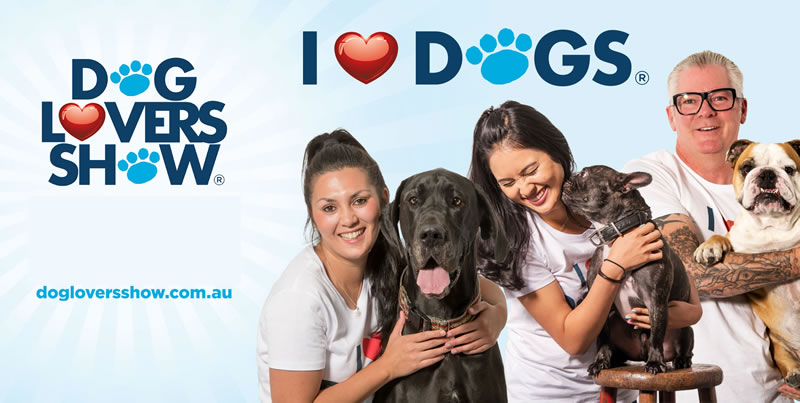 Saturday 4 to Sunday 5 August 2018
SYDNEY
Royal Hall of Industries & The Hordern Pavilion
Our Dogs are family and no words could ever portray just how much joy and love they bring to our lives. The Show is a tribute to the unconditional love that we share with our Dogs and we look forward to welcoming you to the 2018 event to celebrate, interact and learn more about our Best Friends.
In Dogs We Trust - they save lives, deter burglars, work the land, star in movies and are an integral part of everyday life. Words could never describe just how much they enrich our lives - from providing companionship and unconditional love, Dogs provide us with extensive benefits on a personal, family and community level.
Around 25,000 passionate Dog Lovers attended the last event and the 2018 Sydney Dog Lovers Show will again celebrate our canine friends like no other event in Australia. The 5th Sydney Dog Lovers Show will be staged from Saturday 4 to Sunday 5 August 2018 at the Royal Hall of Industries and the Hordern Pavilion and will be one of the largest and most comprehensive Festivals for Dog lovers in the world.
K9 enthusiasts will be provided with an extensive array of Pooch-based entertainment, education and information with over 600 beautiful Dogs, 200+ Exhibitors, 25,000+ visitors, celebrity vets, incredible Dog shows and over 14 visitor features. It truly is heaven for Dog lovers and once you've bought your tickets everything you see and do at the Show is FREE!
The 2017 Show was the largest and most incredible day-out for Dog Lovers in NSW to date! We can't wait to bring you an even more rebarkable 2018 show. In the words of one of our loyal visitors 'Forget Disneyland. The Dog Lovers Show is the happiest place on earth!'
❊ When ❊
From
: Saturday 4th of August 2018 To Sunday 5th of August 2018
Time:
9.30am to 5pm
❊ Venue | Location ❊
Royal Hall of Industries
[
view
]
Royal Hall of Industries Moore Park New South Wales 2021 ||
Map
➼ Venue: 1 Calendar events |
View Events
❊ Web Links ❊
➼
Dog Lovers Show 2018
➼
www.dogloversshow.com.au
❊ Be Social ❊
Publisher Statement
: Details can change at any time. Readers are advised to check with the advertiser (links above) before proceeding.
➼
Advertising Disclaimer
➼
Content Editor