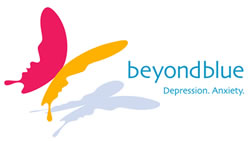 beyondblue is a national, independent, not-for-profit organisation working to address issues associated with depression, anxiety and related substance misuse disorders in Australia.
beyondblue is a bipartisan initiative of the Australian, state and territory governments with a key goal of raising community awareness about depression and reducing stigma associated with the illness.
beyondblue works in partnership with health services, schools, workplaces, universities, media and community organisations, as well as people living with depression, to bring together their expertise around depression.
beyondblues five priorities:
1. Increasing community awareness of depression, anxiety and related
substance misuse disorders and addressing associated stigma.
2. Providing people living with depression and their carers with information on the illness and effective treatment options and promoting their needs and experiences with policy makers and healthcare service providers.
3. Developing depression prevention and early intervention programs.
4. Improving training and support for GPs and other healthcare professionals on depression.
5. Initiating and supporting depression-related research.
beyondblue information line number - 1300 22 4636 for information on depression, anxiety and related substance-use disorders and where to get help. (local call)
Lifeline - 13 11 14.
Suicide Helpline Victoria - 1300 651 251.
Kids Help Line (free call) - 1800 55 1800.
Mensline - 1300 789 978.
❊ Web Links ❊
➼
beyondblue
➼
www.beyondblue.org.au
❊ Be Social ❊
Tags:
beyond blue, beyondblue
Update This Page